Silicone articles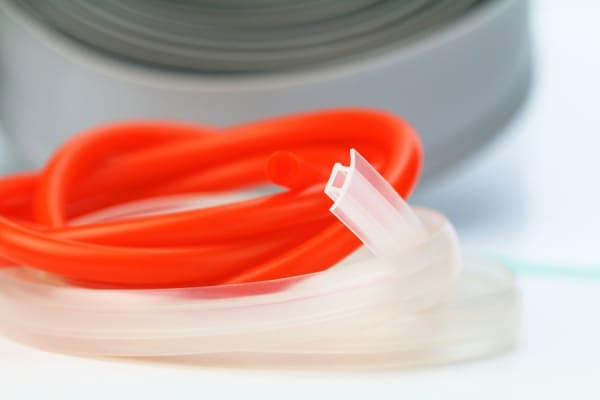 silicone hoses We use silicone rubber from well-proven brands for the production of profiles and silicone articles. Silicone products are characterised by high resistance to chemical and atmospheric influences. An unquestionable advantage is that the material does not age or change shape over time. In addition, it dampens both high and low frequency vibrations. Silicone products are characterised by being tasteless and odourless.
Properties of silicone products
Thanks to their flexibility and high durability, resistance to high and low temperatures and radiation, silicone products are readily used in light and heavy industries. The materials we offer are distinguished by their increased non-flammability, low smoke and harmful emissions, making them safe.
Parameters of silicone articles:
| | |
| --- | --- |
| Permanent operation in standard design | -50°C do +180°C / +250°C |
| Thermal load in special versions | -90°C do +315°C |
| Elongations | 300-800% |
| Hardness | 300-800% |
| Electrical breakdown resistance | 23 kV (VDE 0303) |
Silicone blends
We also offer products prepared from silicone blends. The combination of silicone with other materials increases its functionality, so that it is used in various industries:
oil-resistant silicone,
fluorosilicone,
electro-conductive silicone
thermally conductive silicone
vapour-proof silicone
special dielectric silicones
fire-resistant silicone,
and many others.
An unquestionable advantage of the material is that its appearance can be easily shaped in terms of both form and colour. Extremely malleable, silicone can take any shape and colour. We prepare silicone articles for our customers in all RAL colours, including metallic colours corresponding to aluminium, brass or steel. The colours obtained are vivid and durable.
Silicone product applications
Silicone seals are used, among others, in medicine, pharmaceuticals and the food industry, i.e. anywhere where durability, sterility and chemical resistance are put first. The material is also used in:
construction,
mechanical engineering
industrial installations,
aviation and aerospace technology,
automotive
heating and air-conditioning installations
the electrotechnical industry
the steel and metallurgy industries,
shipbuilding industry.
The silicone products in our range are certified by national and international railway institutes. It is used as equipment for passenger coaches, trams and locomotives in the form of silicone door and window seals, handles used in passenger sections, rubber buffers and other structural and insulating components.